Maik(pol), PH1 (400) is available to stud to quality outside females. Maik was imported from Holland last November from a well known KNPV judge. He is a son of the famous Remco PH1 and a grandson of Kimbo PH1, a top producer. Other noteable dogs in Maik's pedigree include Robbie (one of Jan Tinnemanns' foundation stud dogs) and Pecco Pegge, one of Hans Pegge's best producing stud dogs.
Maik himself is simply over the top. He is a very large, incredibly powerful dog and maintains athleticism despite his size. He is extremely clear-headed, possesses absolutely ZERO handler aggression and his nerves are completely unflappable. Maik is a very difficult dog to handle, but his socialbility makes him manageable. Probably Maik's most distinctive attribute is his massive, swallowing, pushing grips. Many certified PSA decoys have caught him and the opinion is rather unanimous. He is also a finished passive alert narcotics detection dog with incredible hunting behavior.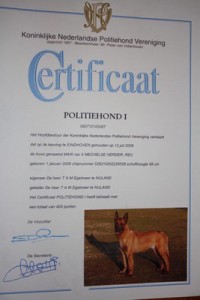 Maik has good hip/elbow/back xrays and already has young progeny working in Holland. Please contact Jerry Bradshaw at malinois_jb@mindspring.com to inquire about breeding. $750.
BRN: 16666
videos:
http://www.youtube.com/user/alpel5748#p/u/4/mhLvMhDILX4
http://www.youtube.com/user/alpel5748#p/u/3/PgQfmhQL8kk
http://www.youtube.com/user/alpel5748#p/u/2/TDOTp6trO9Y
http://www.youtube.com/user/alpel5748#p/u/1/7NcI5R5ZSnY