The choices available to the consumer of different trainers and breeds, and the different training programs offered by these competing trainers can be very confusing to the person or family looking to purchase the best dog possible for both companionship and personal security.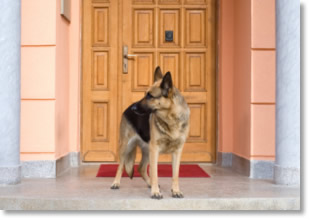 Tarheel Canine's Elite Protection Dogs are the solution to the confusion. Highly trained and well-bred dogs are expensive investments, and as such you want to get the most from that investment both in quality and service. Tarheel Canine's reputation in the police dog business is unmatched. Jerry Bradshaw's reputation as a trainer is unmatched. Together we can bring you the highest quality dog and training to enhance your security and safety, and provide a well-mannered dog to live in your home.
Tarheel Canine Training Inc. is one of the top training facilities in the nation. Jerry Bradshaw, the owner and training director, is a recognized leader in police K9 training and protection sport training in the United States. Jerry's biography and biographies of all of Tarheel Canine's trainers can be found on the About Us page of this website. Tarheel Canine has been providing the highest quality dogs for police service and protection for the last 15 years, since Mr. Bradshaw began training dogs in Schutzhund back in 1990.
Read about our the programs and process for obtaining an elite protection dog: Loyalty without question and service without hesitation.
Uncompromising Selection Testing
Tarheel Canine's Elite Protection Dog program begins with either a telephone consultation or a visit to the client's home to determine the best match for our clients in terms of choice of breed, and training program. The biggest problem in purchasing a protection dog is whether the dog will be a good match, temperamentally, for the clients based on their lifestyle. The clients must be able to properly handle the dog, and the temperament must be a good match, based on the dog's sociability and activity level.
Tarheel Canine's Elite Protection Dog program begins with either a telephone consultation or a visit to the client's home to determine the best match for our clients in terms of choice of breed, and training program. The biggest problem in purchasing a protection dog is whether the dog will be a good match, temperamentally, for the clients based on their lifestyle. The clients must be able to properly handle the dog, and the temperament must be a good match, based on the dog's sociability and activity level.
Once the evaluation is complete, Mr. Bradshaw will hand select a dog for the client on one of his many buying trips to Europe. Many sellers of personal protection dogs have the dogs shipped to them from Europe without prior inspection, though they claim to travel to Europe regularly. Once an inferior dog arrives in the US it is expensive to send it back, so these dogs are often sold despite their flaws to save money. Tarheel Canine does not rely on a foreign vendor, who knows nothing of your situation to select a dog for our clients, period. We never turn over the process to a foreign vendor. Either Jerry Bradshaw himself or his head trainer, go to Europe and physically select the dog for the client. Quality begins with uncompromising selection testing.
Choosing a Breed
In terms of breed, the clear choice is either a German Shepherd Dog or a Belgian Malinois. There is a reason these 2 breeds, and these 2 breeds alone comprise an estimated 99% of the police service dogs in use throughout the world. Do not be fooled by breeders, trying to convince you that other breeds are just as formidable, or workable as these two breeds, that dominate all of the world's police service dogs and protection sports events. While it is true that occasionally other breeds can fit the bill, as we like to say, even a blind squirrel finds a nut once in a while!
In our professional opinion, the German Shepherd Dog is the overwhelming choice for personal protection dogs. Occasionally, we will choose a Belgian Malinois, but unless the client is extremely active, the dog will be handled by a professional handler on a PSD team, the handler has an orientation to do sport competition training with the dog, or the chosen Malinois has the proper individual temperament to suit the client's needs, we will recommend the German Shepherd. It is in general are the better all-around family dog in terms of temperament for home living, and work quality. It is the perfect balance.
Titled Dogs and Pedigrees
When selecting a dog, there is an additional consideration that may affect the transaction. Dogs that come from Europe, untrained for police service or personal protection duties, are either referred to as a "green" dog or a "titled" dog. A green dog is a young adult that has only been taught some basic foundation training, and has the proper temperament and character necessary to do the work. A titled dog is one that has been trained and certified under an impartial judge in a protection sport like schutzhund, IPO, SVV, ZVV, KNPV, or Ring Sport. These are competitive dog sports that test a dog's training in obedience, tracking, and controlled protection routines. It is important to note that just because a dog has such a title, it doesn't mean the dog is ready to be a protection dog or a police dog. There is much more training that must be done to ensure the dog will do the job he will be expected to do once in the client's home.
Tarheel Canine's Elite Protection Dogs can be either green dogs or titled dogs when they start, depending on availability. We do not charge more for titled dogs, because in most cases the functions the dog has are not useful in a personal protection dog. If the customer must have a titled dog in a specific discipline, with specific scores, or a dog with a particular breeding line, we will reserve the right to charge more than our standard fee.
Training and Delivery
Once a dog is chosen on one of our buying trips to Europe, the dog is then transported from Europe to the Tarheel Canine facility in Sanford, North Carolina.  Once the dog arrives at our facility, further tests are conducted. Only then is the determination made that the dog is suitable for the client, and the training program begins.
Training Time
The training time depends on the dog. Dogs are animals, and just like human beings, they have good and bad days in training. Normally we allow 24-32 weeks for the training of your Elite Protection Dog from the time the dog arrives in North Carolina. In many cases we have dogs already in training, and the time required to deliver your dog will be less.
Socialization
During the dog's training we will socialize the dog to things he will see once he goes to your home, such as traveling in a car, and being around people of all different kinds. He will learn the skills of training and control. The details of the training are outlined in the various training packages listed.
Delivery
When the training is near completion, the trainer at Tarheel Canine will contact you to schedule your in home delivery and personal training course. Tarheel Canine will handle all the arrangements of getting the dog to your home. The trainers will conduct the initial socialization with the dog and the new owner, and slowly integrate the dog to his new home. The trainers will then show the owner how to maintain the dog's obedience training, and how to work the dog during simulated protection scenarios as might be encountered in real life. Owners will be instructed on everything necessary to a successful integration, including basic care, housing, nutrition, maintaining the dog's house training, traveling with the dog, and all the dog's training functions.
Guarantee
Once the dog is purchased Tarheel Canine offers an unmatched guarantee. We will replace a dog for any congenital health problem for 2 years after the dog is purchased. We provide a full veterinary screening prior to accepting the dog in the training program. Further, we will replace a dog that doesn't meet the needs of the client in some unforeseen way. The dog you purchase is a great responsibility and also a great asset. We will make certain the dog is the right individual choice for you.
Training Packages
We believe there is no reason, other than to raise the price unreasonably, to split training into multiple levels as some other trainers do. You may have seen protection dogs placed into three artificial categories like a level 1, Level 2, or a Level 3. In our opinion, either the dog is trained to do his job in a functional way, or he is not – that is the bottom line. So we offer only two categories of dogs: The Companion Dog or the Fully Trained Elite Protection Dog.
The Companion Dog
The companion dog is a fully obedience trained (both on and off leash competency) German Shepherd Dog or other occasional suitable breed, selected for an excellent temperament. The dog is trained to sit, down, stay, come and heel, both on and off leash, and go to a place in the house (mat or bed). Further, the canine is trained to alert behind a fence, and alert while on leash next to you, on command, or at the advance of a suspicious person. This dog is not trained to bite and hold, but rather serve as a deterrent only, and be a sociable, family companion. All of our normal health guarantees apply to this dog.
This dog can be picked up at our facility, once the training is complete, where you will receive 1 day of handler training in the proper use of the dog, or you may pay the expenses for our trainer to deliver the dog to you and spend a day at your home working with your new companion. Prices vary from $6,950.00 and up.
The Fully Trained Elite Protection Dog
A personal protection dog's job is in its name: protection of the person he is with. This implies the dog is properly trained and socialized to go anywhere and everywhere you do, and behave properly in public, be a gentle dog around children, but be aware of his surroundings and neutralize any threat that is perpetrated on you or your family.
The dog is trained to a superior level of competency in obedience, including sit, down, stay, come, and heel on one command. In your home the dog will have a place command to keep him where you want him until he is needed. All training is to an on and off leash proficiency.
The dog's protection functions include alerting on command to both aggressive assailants and passive assailants (many thugs behave passively right before they strike). The dogs will engage the suspect with a proper bite and hold when commanded to, upon your discretion as the handler, or if you are physically attacked. The dog will release on command. The dog will be trained to perform an aggressive display to control a group of potential attackers. The dog will be trained to repel car jacking attempts, or attempts to apprehend your child from your car. The dog will be trained to disable the attacker, and will not be frightened from his job by either blunt instrument hits. This dog can be used as part of an executive protection detail as well as a personal protection dog. For an additional fee of $5,000, this dog can also be trained to detect explosives and firearms, in order to be a further asset to any close protection personal security detail. Prices vary from $20,000 – $25,500.
These prices include the dog, all training, and a 2 day class of instruction at your home or facility in the use of the dog's obedience, protection, and if specified, detection functions. Any person living further west of the Mississippi line, transportation is NOT INCLUDED in price. This is due to airlines no longer allowing dogs to  fly as Cargo.  Meaning now we have to fly with the dog personally or use a ground transporter to get the dog to you. The client will be responsible for that cost.
How the Process Works
1. Telephone Consultation/ Visit
2. Contract is signed and deposit is paid.
3. Dog is purchased and put into training – regular updates and photos are provided.
4. Dog is delivered to the client.
5. 2 days of acclimation and training are provided.
6. Free lifetime follow-up by telephone or e-mail.
100% Satisfaction guarantee with 2 year complete health guarantee.
Call 1-919-774-4152 or email Jerry Bradshaw.