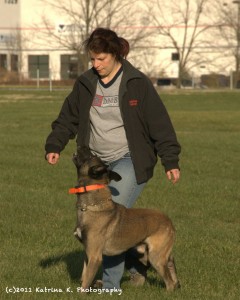 Wow!  What can I say?  I love Nemo.  After watching me struggle with Cy, who was close to retirement and had health problem after health problem, and Nisha, whose nerve was suspect, Jerry Bradshaw, the CEO and Training Director of Tarheel Canine, told me about 2 dogs, brothers, in fact, that he had just imported from Slovakia.  He told me I would never have to worry about health problems (because they came with their hips and elbows done and would come with a health guarantee) nor would I ever have to worry about any nerve issues because both dogs had incredible drive and no nerve issues whatsoever.
So, when I was down in Sanford for a PSA trial, Jerry let me meet both dogs and see both of them work.  I asked his opinion, and he suggested Nemo for me.  His reasoning was that Nemo was strong dog with a ton of drive, and would take me anywhere I wanted to go with him, including the PSA Level 3s.  He was also a very social dog, which was the icing on the cake.  So, in June 2008, I put a deposit on Nemo.  Because he was already started on narcotics detection, I asked Jerry about the cost of finishing his detection training, and then decided to have that finished prior to taking possession of him.
The trainers down and Tarheel, and Jerry, always kept me informed of Nemo's progress, and even though I was "itchin" to get my new dog, they weren't going to rush him along in his training.  I appreciated that.  I got the call in September 2008: Nemo was finally ready.  One of his trainers brought him up to me gave me all of his information and paperwork from Europe, including his pedigree and x-rays, and I haven't been happier.  Because my work schedule as a college professor prohibits me from taking time off randomly, Jerry even told me I could come down during the summer, when I wasn't teaching, so that I could learn how to handle Nemo in detection then get certified as a dog/handler team.
Everything from the service, to the dog, to accommodating my work schedule to let me come down in the summer to learn how to handle my dog, show the dedication and commitment that Tarheel has towards its customers.  Jerry and the rest of trainers have always been available to answer questions, help me, and guide me with my training of Nemo.  I'm happy to say that I plan on having Nemo make his debut on the PSA trial field in about a month (November 2011).  I know that if it weren't for Tarheel Canine, I wouldn't have this incredible dog that I'm getting ready to show.  So, to Jerry and everyone down at Tarheel Canine: thank you so much!
UPDATE: Katrina & Nemo recently obtained their PSA PDC in Brandywine, Maryland!