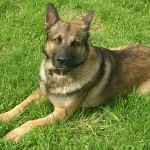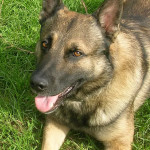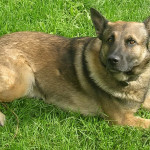 Hello Jerry, it has been quite a while and I wanted to give you an update on DoDo and then a question.  If you remember my husband, daughter, and I came from Lebanon, MO and picked up DoDo.  I want you to know he is the most amazing dog I have ever known.  He is so smart that we have to treat him like a kid at times and spell words so he doesn't know what we are saying, so I am okay until he learns to spell LOL.  He can be on the floor sound asleep (you think) and my husband can say are you about ready for bed?  DoDo knows bed and is up in an instant with 3 circles and jumping up and down till we all head to bed.  So we have to spell B-E-D, T-O-Y, O-U-T-S-I-D-E, F-A-R-M, T-R-U-C-K, etc if we don't want him all hyped up.  I joked one day and told him to throw away a piece of trash, and I took him to the trash can with the paper, and now if you want him to throw something away just say trash and he knows exactly what to do with it.  His favorite game is hide and seek.  You tell him to go count and he has a spot he goes to and stays until he hears his name then he will come find you.  People didn't believe me till I showed him now everyone wants to know how I taught him that and I didn't, I just did it one day and now he knows the words and game hide and seek.  He knows all his toys by name, color, shape.  Tell him which one you want and he will get it.  I think he has every Kong toy made LOL.
He is definitely not the same dog I picked up from you.  He shows no aggression and loves to meet anyone at the door.  I don't know what exactly happened with him and his police officer trainer, but he is NOT aggressive toward men in any way, and has no problems now going into any kind of building or strange place.  I have kept up on all his training and he knows all his commands instantly as we practice regularly.  He is in tip-top shape and he knows I am his handler.  I am with him 24/7.  I pretty much don't go anywhere that I can't take him.  I don't know if I saved him or he saved me, but I have become so dependent on DoDo that I won't even go to the post office unless he goes with me.  He loves the farm and horses.  He goes on trail rides with me, he will get up ahead chasing something but within about 10 minutes he will circle back around to find me.  He has a very happy, very spoiled, life of sheer pleasure.  I couldn't have gotten a better more perfect dog.  I can't imagine ever being without him.  I do wish he would display some aggressiveness to strangers, but he has been so socialized at horse shows etc. he doesn't know what strangers are, everyone he thinks is his friend.
DoDo will be 5 years old in May.  I told my husband that maybe we should look for a second one by the time he hits age seven.  I know their life expectancy is 10 – 12 years, and I don't doubt he will make a full 12 years as he is kept so fit, but I want to be bonded with a second one before he is too old to run and play much.  My question for you is do you think I could get another male or would it need to be a female to keep the two from fighting?  I look at your site from time to time to see what you have and you have two very nice ones right now, but I am not ready for a second one yet and DoDo gets all my time and I don't think he is ready to share me.  He is not dominant around other male dogs, but someone told me you should not put two males together.  So I thought I would ask the expert…..YOU!  I plan on my second one coming from you and when the time comes I hope you have one just like DoDo and just as smart.  Maybe just a little more protective though LOL.  I have attached a couple of recent photos of him for you to see.  He is beyond amazing and so loved.  Whoever trained him did an excellent job, plus he just has the smarts for everything.
Thank you so much for such a wonderful companion!
Anette Brooner