Tarheel Canine's Police K9 Training Program is based on three main principles: Quality, Knowledge, and Service.

Quality
Tarheel Canine believes in small classes with individualized instruction, rather than a large scale production line of dogs. Though we are well known in the industry, we promote a family atmosphere, and close relationships between the Instructors and the K9 handlers. Hand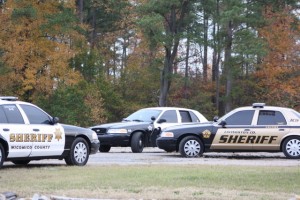 selected dogs, individually and professionally trained, are matched with your handler. Personalized instruction, with individual critiques on all training problems, allows the handler to gain confidence in the dog and build a bond and a team oriented relationship. The dogs we select are individually tested for temperament, and the community in which they will operate. We are the only Trainer we know of to offer a lifetime performance guarantee such as this:

Performance Guarantee: Tarheel Canine Training Inc. guarantees that the K9 provided to the purchaser will meet the expectations of the purchaser in terms of temperament and working ability provided that the purchasing agency properly maintains the K9s training according to the program of training as instructed in the handler course, and additionally that such training is documented in training records. Should the team not meet the expectations of the purchaser after a suitable opportunity for remediation by Tarheel Canine Training Inc., the K9 shall be replaced (excluding any and all expenses that may be incurred to return the K9 and handler to Tarheel Canine Training Inc) at the mutual convenience of the purchaser and Tarheel Canine Training Inc, allowing for suitable time to procure and train a replacement K9 and conduct a handler course. There will be no charge to the purchasing agency for the handler course or lodging if a replacement K9 is issued. Any K9 returned must be in a healthy condition, with no permanent injury or defects. Should the canine's handler be replaced for any reason, the new handler and K9 must complete a full handler course within three (3) months of the change of handler at TK9's facility at TK9's market rate to keep this performance guarantee in force.

Knowledge
We lecture on the theory behind the method so K9 handlers know why they are doing what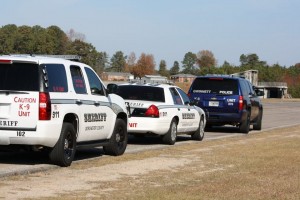 they are asked to do. We also explain why they are doing something wrong, and tell them when they are performing correctly. Some K9 facilities still behave as drill instructors. We believe this undermines the mutual respect between the handlers and the trainers and makes the handlers fearful to think creatively. The training has a goal of producing a team that can be productive in your community, facilitate the safety of officers in high risk situations, and be a good representative of your police department at community functions and in the schools. Our goal is to teach the K9 team how to be productive, efficient and squared away. Our method has a proven track record of doing just that.

Tarheel Canine's Police K-9 Training is DEA licensed, NC DHR licensed and ATF licensed. We service all facets of Police K-9 from Instructor's Courses through the training of K-9s in the following areas: Dual Purpose (Patrol/Narcotics and Patrol/Explosives), Scent Discrimination Trailing, Narcotics detection, Explosives Detection, Weapons Detection, and K-9 Search & Rescue including Wilderness SAR (bark/re-find alerts), FEMA Urban SAR, and Cadaver Recovery (Land). Our importing service has been bringing in high quality working dogs for police service. We import both titled (Schutzhund, IPO, ZVV, KNPV) and green dogs from the top working kennels in Europe.