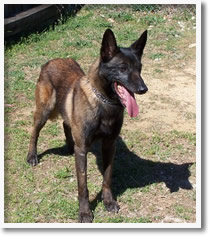 Sport Dogs Tarheel Canine training has been importing high level dogs for sport competition since 1994. Jerry Bradshaw, Training Director of Tarheel Canine has competed in the top levels in Schutzhund, NAPD, & PSA including appearances at numerous championship events. Jerry Placed 22nd at the 1996 SchH 3 Nationals with Arrow of Tigerpaws, scoring "V" in protection in both the regional qualifier and the nationals before Arrow suffered a stroke at 5 years old, and could not compete any longer. Jerry holds the bronze and gold sports medals in schutzhund and is a member of the SchH 3 Club, awarded for training a dog from a puppy to SchH 3.
After Arrow's retirement, Jerry changed his focus to protection sports and founded the Protection Sports Association in 2001 (PSA) and has been a director and judge for PSA. Jerry was the PSA III 2003 National Champion with his dog Ricardo v.d. Natuurzicht, and runner up in the 2002 PSA II National Championship with his dog Rocky. Jerry one of only a few handlers to train 2 dogs to PSA 3, and is a member of the PSA 3 Club.
Jerry has traveled extensively in both Western Europe and Eastern Europe, training with KNPV, Belgian Ring, French Ring, Mondio Ring, SVV and IPO clubs over the years, and is familiar with the requirements for sport competition dogs in virtually any discipline. Contact Jerry for more information, and your requirements for a top level sport competition dog. We can bring in dogs for experienced handlers and novice handlers, and have excellent guarantees.
Custom Importing
In addition to Police K-9s, we can import high quality sport competition dogs so you can play at a high level in PSA , Schutzhund, or Ring Sport. Personal security canine prospects, which can be imported and trained by Tarheel Canine, are available. We can train the dog at our facility to your personal specifications. Extensively tested for sociability and suitability for your particular family or security situation. Our dogs are gentle with your family, yet devastating to those who would threaten you or your family. Their ever-vigilant watch allows you peace of mind in an increasingly dangerous society.
Serious inquiries are appreciated.
Belgian Malinois  & German Shepherd Breeding Program
In addition to our importing service for adult dogs, Tarheel Canine also administers a breeding program for the Belgian Malinois, close cousin the Dutch Shepherd and the German Shepherd. Our puppies are guaranteed to be free of communicable diseases, and to be free of inherited diseases.