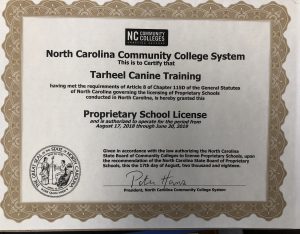 Dog training is a passion.  For most of us it is our job and our hobby all at the same time. At Tarheel Canine our goal is to help you express that passion with programs that teach you not only how to train dogs, but how to look at the entire relationship between dog and handler, understand it, mold it and improve it. We have been training Trainers in private practice, police K9, and the Military since 1996. In the end any trainer's job is to provide the benefits of training and behavior modification to the client whether they are a pet owner or a K9 officer or Sport competitor.  At Tarheel Canine's School for Dog Trainers you get preparation you don't get anywhere else. You will train dogs in our kennel that we provide for you to work with that belong to Tarheel Canine and are going to become real street police dogs, real personal protection dogs, or are pets belonging to our clients. You will work alongside canine handlers going through their handler courses, and world class dog trainers on our staff.
Most importantly, students are provided with the tools of the dog trainer's trade as part of the enrollment (TK9 Trainer School Application ) and shown how to use and apply theory and these tools in a unique and very general training system called the Tarheel Canine Training System. This is unique and original system of training originally developed by Tarheel Canine's Training Director Jerry Bradshaw, and is constantly evolving and improving with new research and understanding of behavior and training methods. This is training you can get nowhere else.  This system has been developed for and applied by hundreds of previous training students in private training practice, police, and military applications. See our references and testimonials for more from our past students. Jerry and his trainers conduct training seminars for police departments across the united states (see our police K9 references), military installations in the US and abroad, as well as for foreign governments (Taiwan, Australia, Brazil, Costa Rica, Belize, Germany, and the USVI) on a regular basis. Our system is used by sport trainers, obedience trainers, police K9 unit trainers, and many others who have attended Tarheel Canine's School for Trainers and have become leaders in their field since 1996. Many of our instructors are top sport competitors in Schutzhund, PSA (www.psak9.org), have their own businesses training dogs, or are in charge of some of the country's most important police K9 units. Attending school with us gives you the ability to network with industry leaders.
The foundation of Tarheel Canine's Training System is an understanding of behavior and canine temperament which is explained  in Tarheel Canine's proprietary training manual and Jerry Bradshaw's  book, Controlled Aggression published by Lulu Press (http://www.lulu.com/content/2317473), both are provided to students with their equipment upon enrollment, as well as lectures which cover all key areas of training in the Tarheel Canine Training System.  Through extensive practical work and application of the theory we then show the student when and where to apply the use of key training equipment. This includes using leashes, training collars, long lines, reward toys, modern electronic training collars (in both low level stimulation and the Tarheel System), application of BSD™ Behavior Shaping Devices for training detector dogs for narcotics and explosives detection, how to use various sleeves and grip training equipment including bite suits for sport, Personal Protection and Police K9 Training.
Because we are a working training facility, the number of dogs coming in from Europe on a monthly basis provides you with an opportunity to see a vast number of dogs, with different strengths and weaknesses. The strengths need amplification, and the weaknesses need training. Varying temperaments, from hard to softer dogs, highly driven and motivated, you learn to critique, classify, and prepare remediation plans many times and then implement the training on these dogs, before you go out on your own. Pet dog training occurs in the same way as the working dogs. Clients drop off dogs for training and do a comprehensive behavioral questionnaire which then is discussed with the students by the trainer so a proper plan of action can be devised. Each dog is started immediately on the Training System plan, training records are kept, and students instructed in both the theory and application of the Tarheel Canine Training System.
The training knowledge is presented both in lecture format, so you can see the theory behind the technique, and in practical application where then you can take that knowledge to the field and apply the techniques. Training sessions are debriefed, and adjustments for the next session are discussed. You need to see what works in a variety of contexts with a variety of dogs. Whether pet training or working dogs, the blending of theory and application is something we stress in the Tarheel Canine Training System. Other schools show you a very narrow a technique. We allow you to explore among a variety of techniques within a proven general system of training, proven in competition and on the street and in the homes of thousands of pet owners. There is no cookie cutter approach, or "just one way" in our training. It has been described as eclectic, coherent, and systematic, with a reason behind each technique.
Our instructors are student focused. We want to make sure you get what you need as an individual to be successful. Not every student needs the same teaching method either. Jerry Bradshaw, before becoming a dog trainer, was a college professor, so education is the highest calling in his opinion. Breaking down complex tasks and teaching concepts clearly is a priority. All of the instructors at Tarheel are required to teach in this way.  Our trainers keep an intensive schedule to keep students working and dogs advancing throughout the day. Each training day for students is 10 hours long M-F. Instructors work on 4 day shifts. Some M-Th, and some T-F, so students can avail themselves of a maximum amount of training time by coming all week long. Students are also welcome to come to our Tarheel Canine Protection Sports Association Club on Sunday mornings where the trainers work their own competition dogs. Students will rotate throughout the week among the instructors getting some different perspectives, and learning from a variety of experiences.
All of our trainers have their own particular passions, from obedience and behavior, to protection, to detection, and tracking and trailing. All of them are training their own dogs for some higher calling, either sport titles (Schutzhund, PSA), SAR (Search and Rescue), or detection.  This passion runs from our instructors to our students.
Tarheel Canine offers courses and certification for trainers in the following areas of instruction:
Professional Obedience Trainer (including Behavior Modification).
Police K-9 Instructor (Law Enforcement)
Police K9 Instructor (Civilians allowed and encouraged with a background check)
Detection Dog Trainer (Narcotics, Explosives, Cadaver, Bed Bugs, Mold, Termites)
Protection Trainer & Decoy (Police K9, Personal Protection, Schutzhund, PSA)
Search & Rescue Trainer (Wilderness, USAR, Tracking, Trailing)
Accelerated Trainer Courses (Police K9, Professional Obedience, Protection/Decoy, Detection, and SAR.
Police K9 Handler Courses (retraining new handler with a previously certified K9).
Police K9 Supervisor Courses (Tailored to the Unit you supervise, one week course).
Classes vary from our 2 week accelerated courses to 4,6,8,or 12 week Professional Courses and our 6 Month Master Course (Best Value)  in all certificate areas.  The main difference in the course lengths is the amount of hands on training you will get with the extra time you devote.  Experience is developed with opportunities to handle, train, and problem solve different dogs, breeds, ages, and different strengths and weaknesses. The longer you can stay the more of this experience you can develop and make your own.  Time is a valuable resource. We understand that students have lives and family obligations as well as career goals. We are more than willing to work with you to schedule your maximum amount of time, even if you require breaks during the course.
Enrolling in Class
Our enrollment is a rolling enrollment, meaning you can start on the first Monday of any month. December is the only month where we do not start new students. You can arrive the weekend prior to the class start date to settle in. If you come by plane Monday – Friday between the hours of 8am-3pm we will provide pick up. After those hours Uber transportation is available. If you go out of town for the weekend you can board your personal dog at our facility at a discounted rate.  We are all about personalized service. After graduation you can come back for training for up to 2 weeks per year at no tuition charge, you are responsible for your housing costs only. We want to see you come back, and assist with your development. You can come to our K9 seminars around the country, and most certainly call back and ask questions about training situations you need some assistance with.  While here you will have invaluable networking opportunities with trainers and handlers from around the country and in many cases around the world. Free internet access is provided for students as well.
Our program is best described as intimate. Our student to instructor ratio is literally no more than 3 to 1. Everyone gets to work dogs, and nobody just watches. Training with the instructors is informal and interactive. Questions about method and alternatives are encouraged. Many other schools are large and impersonal, and the bulk of your time is spent only training your own dogs. In this business you will be training the dogs of strangers or dogs for police work that have no handler to bond to. You have to have the skills to extract behaviors from all different temperaments and breeds to be successful. Our students are successful in the Pet Training Industry as well as in the Police K9, working dog and sport worlds.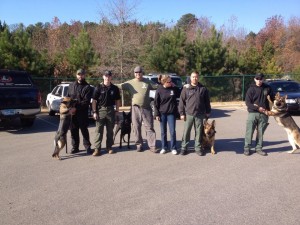 Here are some excerpts from our student testimonials. Hear the passion and excitement in their words and look at our testimonial page for more on the quality of our training:
"While attending the school, my life changed. I fell in love with the training of dogs in all areas; protection work, detection work, man trailing, obedience, etc. I knew that it was exactly what I wanted to do with my life. Jerry Bradshaw and his staff made the whole experience incredible for me, someone who had never owned a dog before, plunging head first into the training of these amazing animals. The staff was knowledgeable, courteous and professional and made sure I got proper instruction and lots of hands on time in all areas of training. While attending the school, I forged friendships that will remain forever in my life and I was even able to purchase my first dog, a female Belgian Malinois, from Jerry while I was there. Upon graduation after 3 months, Jerry was instrumental in helping me obtain my first dog trainer job…"
Jeff Riccio, CEO Riptide K9, MA.
"From the moment I stepped off the plane in North Carolina the learning process began, I felt very welcome and I knew this was my kind of place the moment we arrived. From then on the fun began, learning how to decoy for different kinds of dogs (Police, PSA, and Personal Protection), learning how to use the E-Collar for specialized applications, and most importantly developing the work ethic that separates amateurs from professionals. At this point I can safely say attending Tarheel Canine has been the best decision I've ever made. Not only did I attain the knowledge, skills, and work ethic to become successful in this industry, I got to meet and learn from people that truly make me a better person."
Felix Pachon, Proving Ground Kennels, AZ
"When anyone asks me what school or program they should attend, I always say Tarheel Canine. I only learn from the best!"
Dave Pappalardo, K9 Unlimited, NJ
"What I really liked about Tarheel is that they exposed the students to all kinds of fields relating to dog training. I went in wanting to learn about pet obedience and ended up loving the working dog training! I appreciate Tarheel for providing students the opportunity to work with client and working dogs right from the beginning, allowing us to gain the valuable firsthand experience. The course description mentions that students will have practical experience on at least 20 dogs. I and my fellow classmates quickly surpassed that number and we just stopped counting."
Joey Chow, Bangkok, Thailand
"Jerry goes so much more in depth into principles and techniques than any training programs I have seen in my seven years of training and handling police canines. If you truly want to learn how to train and handle a police canine the right way I strongly recommend that you attend."
Gary Burgamy, Tinstar Canine, GA
"As the Supervisor / Trainer for NASA K-9 unit, I came to you when I was searching for Explosive dogs to start our unit.  K9 Sultan and K9 Quick graduated your Explosives Detection School and became the first two dogs for NASA Goddard Space Flight Center.  You did an outstanding job.  K9 Sultan has tremendous drive and is always excited to work. We have purchased four more dogs from you and we couldn't be happier with all of them. When we purchase another K9, you'll be the first person we call. I graduated from the instructor school as well and highly recommend that if you are a supervisor/trainer you get the formal education from Tarheel Canine to keep your unit challenged and running smoothly."
Lt. James J Rogers , NASA K-9 Unit, Greenbelt MD
Tarheel Canine is a progressive training school, teaching the most advanced methods for pet obedience, behavior modification, Police K9s and working dogs. Our instruction is up to date, and you are exposed to numerous methods and philosophies, so you can make choices about what techniques to bring to the table to train dogs of varying temperaments, and with unique training and behavior problems. We seek to keep enrollment small in each class, so that we can deliver individualized hands on instruction and attention. You will be treated as an apprentice and fully involved in the training and business activities of the school. This includes participating in behavioral interviews with clients, training our client's dogs, and participating in follow-up lessons and in service training. You assist in seminars when given, and there are numerous opportunities to attend special events like competitive obedience and K-9 sports trials, and special training events held with our former students around the mid-Atlantic and southern states. Our former students are available to speak with you, and in many cases, you can visit their training facilities so you can see how they have made successful careers.