K9 Ace, formerly "Amigo" and his handler just finished training and certification one week prior…
K-9 "ACE" along with his partner Deputy Mark McCracken, track and arrest Lee Roy Greene.
At 1:57 pm Rutherford County Sheriff Deputies were dispatched to a disturbance call at 207 Aqua Drive involving Lee Roy Green.
Upon arrival, deputies were informed that Lee Roy Greene and run from the home but was hiding in the area.
Rutherford County Sheriff Deputies with the assistance of Forest City Police Department were able to set up a perimeter in the area of Aqua Drive.
Rutherford County Sheriff's Deputy Mark McCracken and his K-9 partner "ACE" (who just finished training on May 23, 2012 and was certified as a trailing K-9 with a background in tracking) were able to track Lee Roy Greene to his hiding place, where he was taken into custody.
Lee Roy Greene had been entered NCIC and was wanted for (2) counts Breaking and/or Entering and (2) counts Larceny after Break/Enter.
Lee Roy Greene received a $100,000.00 bond and is being held in the Rutherford County Detention Facility.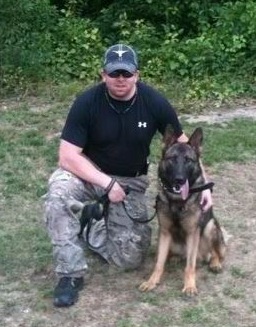 Rutherford County Sheriff Office and Rutherfordton Police Department are still looking for Lee Roy Greene's father, Randy Dale Greene Sr. who is wanted for outstanding felony warrants.
Anyone with information as to the location of Randy Dale Greene Sr. is asked to call Rutherford County Crime Stoppers (828-286-8477) or your local law enforcement agency.