Article by K-9 Cop Magazine •
The  .pdf version with images from K-9 Cop Magazine
Located in central North Carolina, Tarheel Canine Training, Inc. (commonly referred to as Tarheel Canine) has been in continuous operation as a canine training facility since October 1994. CEO Girard (Jerry) Bradshaw founded the company after leaving a career path that had started 13 years earlier, where he was on track to finish a Ph.D. degree in Economics. Jerry left The University of North Carolina at Chapel Hill in April of 1994 and founded Tarheel Canine Training, Inc. in October of that same year. The values of professionalism, quality, and efficiency drive the training programs at Tarheel Canine. Our trainers are not the typical police dog trainers found across the country. Jerry looks for smart, creative, intellectually open-minded trainers to staff the programs at Tarheel Canine. Each trainer brings experience and their own brand of creativity to a program designed and implemented to get results. Dogs are constantly being imported on a monthly basis and selected to go into training for agencies across the nation and around the world. Trainers are assigned to developmental stages of training in detection, variable/hard surface tracking, obedience and controlled aggression with the green dogs, which are then passed along to another trainer who finishes out the training to prep the dogs to go into the handler course, and finally another trainer with 20 years of road experience as a police officer and a K-9 officer takes those dogs and conducts the handler course with the K-9 officers and the trained K-9s to teach the deployment, maintenance, and tactics. All training is done in house from green dog to finished dog.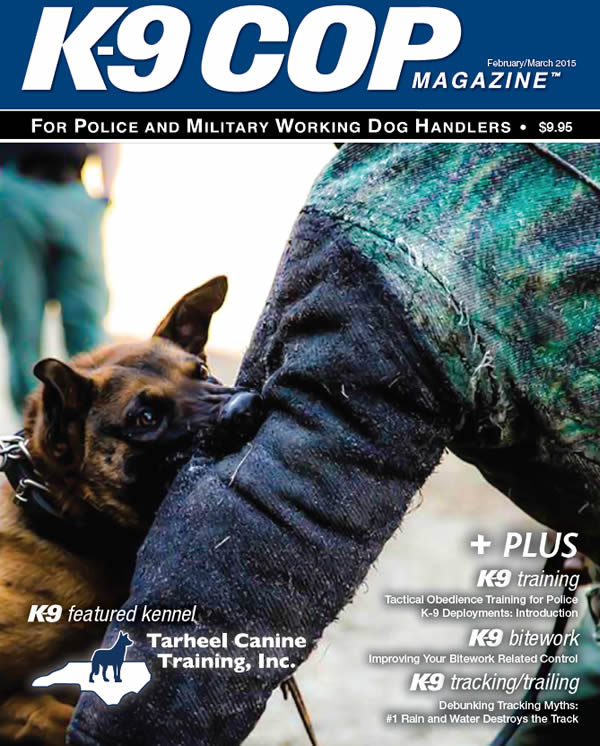 In addition to the police dog program at Tarheel Canine, there is the school for dog trainers that teaches the proprietary methodology of our training programs to K-9 instructors from police agencies, military, and civilian life. These two programs dovetail together as the student instructors learn how to select, train, and deploy police dogs with the dogs that are in training for our client agencies.
Tarheel Canine's main facility at 230 West Seawell Street, Sanford, NC is a 12,000 square foot building which includes our company offices, trainer offices, classroom, imprint training area, and 80 run kennel area. In addition, our facilities include a 26 acre wooded and field area one half mile from our main location. This area has an obedience/IPO field and areas for tracking/ trailing. In 2014, we acquired a second facility for training known as our Tactical Training center (TTC). This is a 22,000 square foot facility comprised of three buildings that was previously a long term care center. Slick institutional floors and long hallways with many opposing doors make this an invaluable resource for detection work as well as tactical deployment of police dogs in building searches. The sheer size of the facility allows trainers to be working on different groups of dogs in different specialties and never get in one another's way. The TTC also has seven acres of land attached to it, with vehicles in the parking lot for vehicle searches, parking area for hard surface tracking, out-buildings and fields for searching, tracking in soft surface and another obedience field that is lighted for night training.
Because we have been in our location for 20 years, we have an excellent relationship with our community so that we additionally have access to school facilities, the sheriff's office detention center and jail, towing companies with vehicle lots, farmers' fields numbering in the hundreds of acres, and an enormous brick manufacturing plant with outdoor areas, manufacturing buildings with large open spaces, tight places, grated open stairs, and any manner of environmental challenge for us to expose our dogs to in training and during the handler course.
Tarheel Canine has been evolving our training programs for the past 20 years under the care and direction of Jerry Bradshaw, one of the nation's leading trainers. Jerry has trained with some of the world's most accomplished trainers in the U.S. and Europe, and traveled the world giving lectures and teaching seminars in Canada, Taiwan, Australia, Brazil, Belize, South Africa, the Caribbean, as well as all around the United States at police dog conferences and police departments. Jerry has taught seminars for the U.S. Army, U.S. Air Force, and special forces in addition to civilian law enforcement. Further, Jerry has trained and titled 5 different dogs in competition disciplines of IPO and PSA (www.psaK-9.org) over the past 20 years and competed at numerous national championship trials. Arrow, IPO3; Ben IPO 2, Rocky PSA 3, Ricardo PSA 3, Fredy PSA PDC. Drago PSA 1 and Raptor IPO 1 are his two current competition dogs. Jerry continues
to do decoy work and train competitively which allows for skills to stay sharp, and because of this, Tarheel Canine requires all our trainers to work personal dogs toward personal goals in competition or police dog training. These dogs can be used to showstudents and  canine handlers, as well as seminar participants, that we can not only talk the talk but each individually walk the walk. The trainers at Tarheel Canine have their personal dogs trained and titled in PSA competition exercises, police K-9 patrol, narcotics, cadaver, variable surface tracking, and search and rescue.
Personal not corporate, progressive, up-to-date training, taking advantage of the best of the old school ways of training, as well as incorporating the best of new developments in the field of canine behavior, is what you get at Tarheel Canine. Trainers with experience putting out over a hundred trained dogs a year in service as well as pursuing training goals with their own personal dogs. Sharp, skilled, educated trainers, along with some of the finest  facilities available, make Tarheel Canine a place to consider for  your canine education, next trained police dog or green dog for your in house programs. Visit our website for more information and read our trainer profiles in the "About TK9" section of the website.